via Lingerie Briefs
Welcome to Retail Briefs, Lingerie Brief's latest column, dedicated to answering your burning questions about the world of lingerie retail.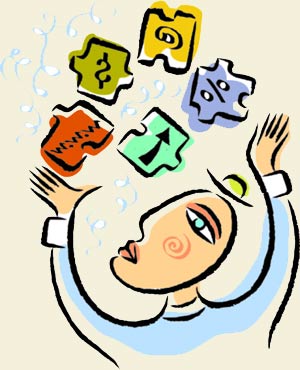 The day-to-day of lingerie retailing is challenging.   You're always on the go – managing your inventory, your employees, your customers.   Keeping a store (or stores) on track is hard enough, and too often there's nobody to ask when you have questions or need inspiration to grow and improve how you're managing the business overall.   Until now.
Retail Briefs will look at the world of lingerie from your point of view.   In this space, you can look forward to seeing:
Take a peek – Look inside lingerie boutiques of every size and geography.   Owner interviews, photos, and more.
Fab ideas – From holidays to fit training, we'll highlight which stores are breaking the mold and how is it working?
Shared challenges – Put your heads together to examine the hard parts of the business of lingerie, from buying strategies to customer outreach.
Let's talk – Smart ways to discuss tricky situations on the sales floor.
And more!
Got a question?   Want to have your boutique profiled?   You can find me at ali@fabfoundations.com or contact me through Lingeriebriefs  Contact
To start things off, we asked this timely question –
How are you differentiating yourself with holiday promotions  this year?


What Katie Did (London/Los Angeles)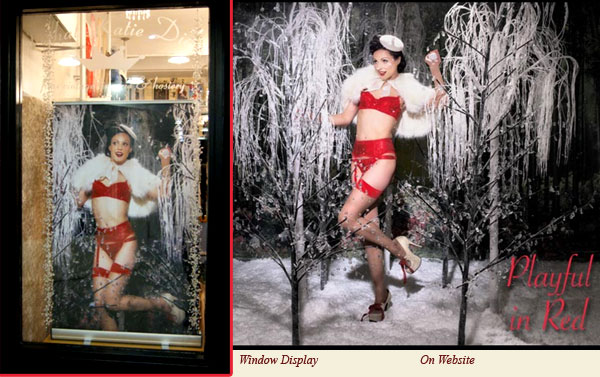 The name of the game is coordination at What Katie Did.   Window displays and the website both feature the same holiday themed images.   In addition, customers get a similarly spirited card free with every purchase (online and in stores).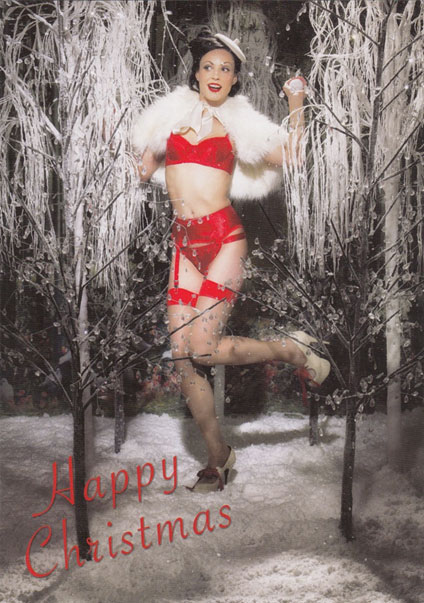 Magnifique Intimates (online)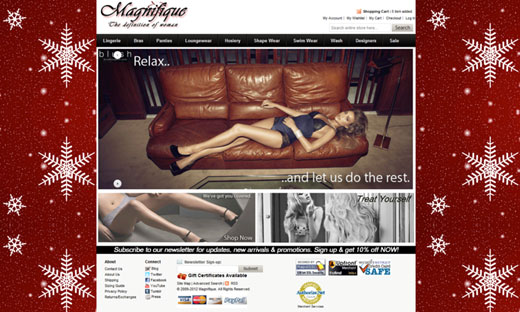 Magnifique Intimates is also adding some holiday cheer to their website.   "Just like when stores put on holiday music, we will have a holiday theme too," says owner Jennifer Baranek.   Holiday sales and giveaways are also in the works.   Magnifique tested several options for their site before selecting the red-with-snowflake pattern.   They opted not to put any flash or java in their holiday theme, in order to maintain peak operating performance and speed while keeping the festive holiday spirit.   The boutique is also running a Facebook giveaway, on top of their usual sales.
A Sophisticated Pair (Burlington, North Carolina)
A Sophisticated Pair is helping customers shop more easily and efficiently with "Build A Gift" Baskets.   "Because the holiday season can be hectic, we created our pre-wrapped gift baskets specifically for friends, family, or significant others of our customers to encourage them to purchase more than the standard lingerie set or gift card.   Our goal is to increase the amount of each sale and to expose customers to other products we carry in the store while still providing a valuable service for people less interested in wrapping presents."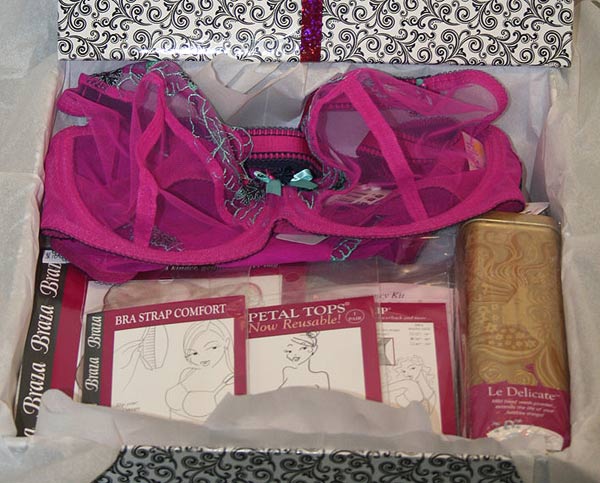 The folks at A Sophisticated Pair debated between pre-selected, pre-wrapped gifts and more customized options.   They settled on allowing customers to choose, "because it enabled them greater control over the price and final design."   Some higher margin items were discounted as much as 25%, which makes more sense from a business perspective than offering a lower, across the board discount – a strategy they also considered.
Kiss Me Deadly (London UK)
Catherine Clavering, owner and designer at London's Kiss Me Deadly gets her customers into the holiday spirit by having them participate in decorating the store's main windows.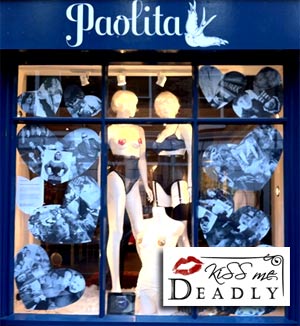 The promotion idea launched last Valentines Day, when they asked their customers what they loved and requested black and white pictures.   From there the Kiss Me Deadly team made the pictures into big heart collages for the windows.  The promotion was so successful, they repeated it last Easter.
For this Christmas, Catherine reports that she will, "ask everyone what their ideal gift is and put them in tiny lacey snowflakes on the window."
Kiss Me Deadly also takes a unique approach to premiums.   Instead of offering discounts, they provide a "mystery gift" with purchase.   Odd stock items, ends of line "" the sorts of stuff most people would put into a sale "" go into big boxes separated by size.   With every order, an item is taken out of the bonus box, and sent along as a free gift with purchase.   "So if you order a small bralette, for example, we'd probably put a small pair of tights in. If you order a  full lingerie set all in a size medium, you'll likely get a swimsuit in a size medium "" that sort of thing," reports Clavering.